Are you filling like your copy is meaningless? Or your grammar skill is very low because you are not an English speaker, and you don't have anyone to help you with your grammar check for your content?
Grammarly Review
Don't worry, in this blog I got you covered.
Here's a little bit of my story, 2020 I started my business and for the first time I heard about business online, and instantly I went like I'm in, and I've got started. In the middle of the program, my coach asked me to write posts on social media, blogs, youtube videos, etc.
That's when my problem started. I ask friends and family for help, but nobody understood what I was doing, and some friends after they see my website never return my call.
Grammarly is the best world's grammar checker, that will help you with all your grammar problems. Just write your content and Grammarly will do all the grammar checks, misspell words, and arrangements for you.
What is Grammarly?
It is an American headquartered cross-platform cloud-based writing assistant that reviews spelling, grammar, punctuation, clarity, engagement, and delivery mistakes. It uses IA to identify and search for an appropriate replacement for the error it locates. It allows users to customize their style, tone, and context-specific languages. Source Wikipedia
An extension that you download, and as soon as it is activated in your browser, where ever you are typing something Grammarly can detect your text and do the spelling check and citation flow of your text. Telling you if your text is hard or easy to read.
This software or plugin helps people create effective, comprehensive, beautiful, engaging, authentic copywriting. And it helps with the flow of your text and allows your audience to connect with the creator easily.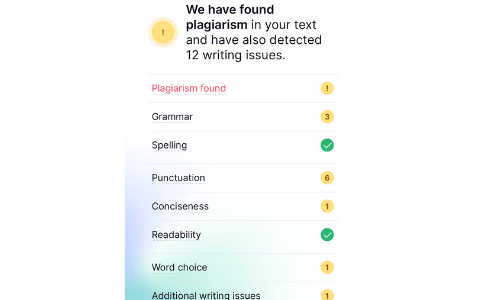 Grammarly plagiarism checker detects plagiarism in your text and checks for other writing issues. Grammarly can detect plagiarism from millions of web pages, and will tell you if your content is duplicated or not
Why check plagiarism on your blog or content on the internet important?
Google or any platforms out there are checking your content authenticity. it is now permitted to copy someone's hard word with permission.
But all of us online business owner knows that most content on the internet is coming from another source, that doesn't mean they are copied and pasted but before I write my blog I check some other bloggers to see what they put out there.
Is Grammarly worth it?
Yes, it is well worth it. If you would have to pay an assistant or a professional to work for you, It was going to be more.
Grammarly Affiliate
If you are a blogger and you want to be an affiliate for Grammarly, It is easy to join their affiliate program. Join the ShareASale affiliate platform. Shareasale is a platform with 10000s of different brands, you can promote as well. Go to the Grammarly website but the website will redirect you to another platform
High conversion rates and competitive commission structure. Their affiliate program pays 20-30% commission and has an activation bonus, cross-tracking device, and 90 cookie window.
Grammar for dummies, Spanish Grammar check
This plugin is only available in English, but according to their support, I hope they start working on translating this extension to work with different browsers in different languages.
Grammarly for safari
Grammarly works perfectly on safari and chrome.
They have non paid version is ok, and if someone is using it for grammar checks only, it's ok the non-paid version but to have access to different futures or different types of products that they offer, it will be required to upgrade. If you are online creating content, pdfs, ebooks, even for your website blog. It's necessary instead of paying someone on the side to check your stuff, Grammarly will save you a lot.
Do not laugh at me but it is recently that I know what was proofreading cause where I'm from, that has a different name, But yes Grammarly is the best proofreading software on the internet for me. Don't take my words it is always better to do your own research to find out what is working best for you because there is a lot of other software that offers the same service.
Do you want to write error-free content for your marketing business, agency, or even you are a Gigger? We highly recommend this amazing writing extension assistant, to write better English and proofread efficiently.
Grammarly Pro and Cons.
Pros
The free version is suitable for students
Availlable as extensyon, web, app for destop, mobile and ms office
View synonyms and word meaning
Fantastic customer support
Real-time analysis, content management, correct and suggest alternative words.
Cons
Sometimes do not correct properly, but it does give you the suggestion and underlying the error
Slow if your computer has a low capacity
It's not guaranteed 100%, it can't do the job for you.
Is Grammarly worth it?
Grammarly also has a premium plan for those who are willing to go the extra mile. The free plan is great if you just want to use their grammar assistant and error-free extension.
To write top content, a great overall score like 96-99, check plagiarism, and write like an expert will require you to upgrade to use other futures. The premium version is very inexpensive, as low as 20/m, for best writing with peace of mind it is worth it.
Hope you learn something new today. Remember your comment is really appreciated. Install Grammarly Assistant for free here.