Are you looking for the best autoresponder for your affiliate marketing business? I know the pain when you are trying to find the best product for your business but not knowing which one to pick.
In my little experience with internet marketing, and affiliate marketing, I made a lot of mistakes by not knowing Wich software to use for my business, I end up spending a lot of money and almost quit because of not finding the results that were looking for.
Aweber is a great auto responder that delivers on its promise, It is easy to use with great customer support, you can create a ticket, call them to speak with their expert on the phone, or chat online instantly got help.
Try it free now. It is free to up to 500 subscribers, if you are a small business that needs to stay connected with your customers, send reminders, welcome messages, thank you a message, or special notes to your customers, for sure this is the right autoresponder for you.
You can schedule your email and Aweber will send emails to your customer on your behalf, you don't have to type an email anytime you have a new customer. You can use a template and tell Aweber to customize the email according to your customer name and send it automatically.
A good auto responder will help you big time in your marketing business, if you can find one that is beginner friendly, that's mean easy to use, and has good customer support.
Believe me or not when you are using software for the first time, sometime you will have an expert from the inside that company to help you. It is frustrating to figure out how to use something that you have never used before, it could be more beneficial to focus on things that will bring revenue than worrying about the tech stuff.
I used many CRM, autoresponders, funnel builders, etc. But believe it or not, there are a lot of free ways for a beginner or a new business owner to bypass the use of all those paid and expensive tools.
Free autoresponder for affiliate marketing
When it comes to autoresponders for affiliate marketing, there are not a lot of them that are free, and I don't want to be exaggerated to say there are none of them that are free. The purpose of an autoresponder is to advertise your services or product.
Marketing literally means money, you are advertising to make money, I think it is not fair for anyone to give you something that I know makes you a lot of money for free.
But there are a few exceptions because there is an exception in anything, that is why most software gives you a free trial, by using the free trial you will be able to get used to it, sometimes start making money that way you will have enough money to pay for the program.
I found a specific one in the exception, I think that is delivered to its promises. 2020 I start online and that was the first software I use to build my email list to up to 10000 subscribers. That time I was using click funnels as funnel builders, and I left going to another platform because I was looking for a better service, and realize that sometimes more expensive does not mean better.
That experience left a sad taste in my mouth, and that was the worst experience ever. After a year I had to come back to this software again.
Now, this has saved me more than $500 a month in my business.
In the next section below I will tell you more about this amazing autoresponder software and how you can start using it to build your email list free, and using their free account build your list to up to 500 subscribers, and then they will start charging you when you start having more than 500 subs.
Yes, it is free, until you have 500 subs. Create your free account now!
Best email autoresponder for affiliate marketing
In this Industry sometimes "Best" does not mean better service, or delivering to their promises, "Best" most of the time means more money. If you are looking for an autoresponder that cost a lot of money I have a few that I used before that is good, expensive, and also more headaches too.
I used Entresoft for a year, unfortunately, it is not on the market yet but I would rather use Aweber as an autoresponder and use WordPress for free to build my funnel instead of paying $300 for a software that could cost me least than a $100.
The only reason you are using an email autoresponder for affiliate marketing is to get the job done and pay less. If you are looking for one like that I have a few I can refer you to, I have a list of more than 20 you can use to run your business, whether you are a one-man show or a business with several employees.
Subscribe to my email list and ask me for the autoresponder list and I will send it to you. Most of them as you are using them, you can get paid when referring a friend or family using their Affiliate program.
That will not make you millions or make you a millionaire but using their referrals or affiliate program can cover your monthly cost, that way the software becomes free.
The best email marketing platform for affiliate marketing.
Email marketing consistently delivered a better ROI than any other marketing channel, plus it is brilliant for community building and engaging with your customers on what feels like a one-on-one level.
But if you don't have the right infrastructure in place to handle your email marketing, you're not going to be able to reach your subscribers and customers in the way you need to encourage engagement, build those important relationships, generate more leads, and increase sales.
That's why I have put together a list of the top email marketing platform on the market right now. Each of them on the list offers a unique set of futures to explore so you can find the perfect email marketing platform to get the result you are looking for.
Aweber
Weber is a great email mail marketing platform for teams, small businesses, and Entrepreneurship influencers. It includes a drag and drop email editor, templates, automation and workflows, A/B testing, segmentation, autoresponder, and tons of integrations. Weber offers a landing page builder, it is clean drag and drops based, and easy to use for anyone who needs to quickly build and deploy a landing page along with an email campaign.
How to use Aweber
It is an easy-to-use beginner-friendly design, the platform is well designed with all the features right on the screen on the dashboard. It has training for each feature and Botton on how to use them and what are their roles on the platform. And also they have specific training on how to integrate weber to any page builder software and also Training to integrate Aweber with WordPress.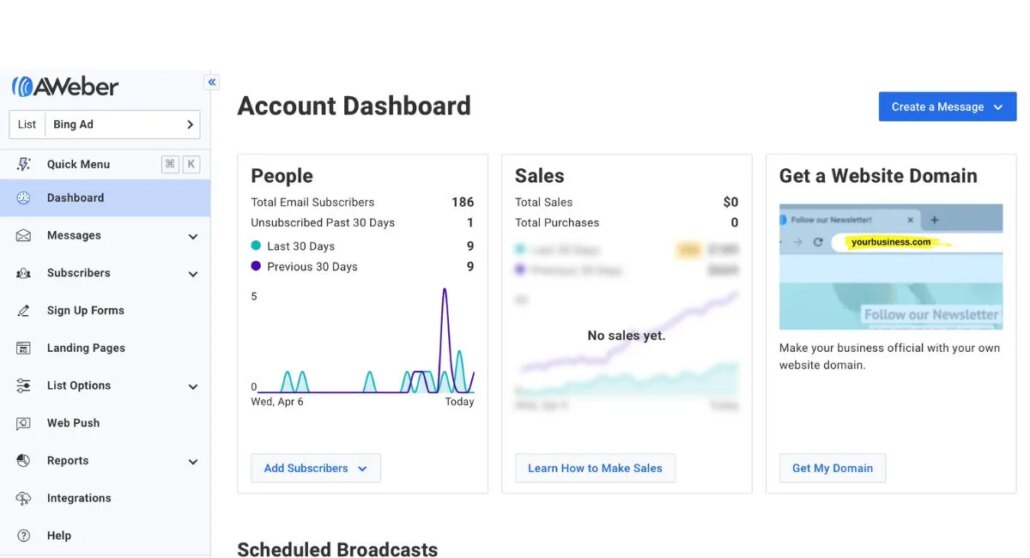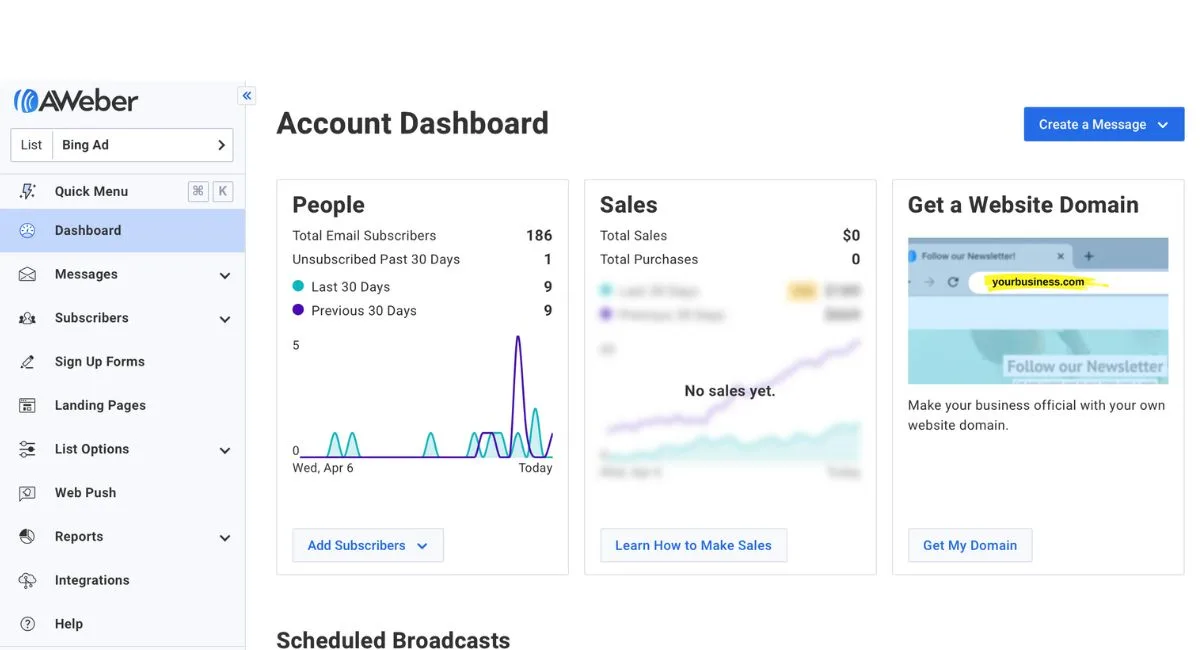 Aweber cost
Weber is free for up to 500 subscribers. Pricing starts at 16.15/month.
Aweber plans
Aweber has two plans, the free plan and a pro plan
Free Plan
Subscriber limit 500
Email sends 3000/mo
List profile 1
Sign up form
Pro plan
Unlimited
unlimited
unlimited
sign up form
There are a lot more on the free plan to learn more about their plan visit their website for more info.
Aweber features
AI-powered email template designer so you can create stunning branded emails quickly. Automated email content creation by broadcasting the latest posts from your blogs. direct campaign to the right people using tagging and dynamic content. drag and drop landing page builder.
e marketing.
E-marketing is an advertising discipline that includes all marketing activities conducted by an individual, or a business online using an electronic device or the internet, Other names for this type of marketing include internet marketing, online marketing, digital marketing, or web-marketing.
Internet marketing or online marketing, or web marketing is a form of marketing that uses the internet to deliver promotional messages to customers through digital channels such as search engines, email, websites, and social media.
E-marketing is all king of the marketing email or material delivered through the use of the internet to an electronic device, either your phone, your laptop/desktop, or tablet using an email provider free or paid.
Why e-marketing is important?
Image before the internet invention, marketing was there, marketers used to use mailing, booklet, journals, magazines, the radio, and tv broadcasting to deliver their marketing messages.
It was a pain because not only does it require a lot of money but also a lot of time to reach your potential customers.
Before only big companies with a large budget only could that advertisement method. But now with the rise of the internet, anyone can do Marketing without spending a lot of money or time.
Email mailing
Email marketing is the act of sending a commercial message, typically to a group of people using email. In its broadest sense, every email sent to a potential or current customer could be considered email marketing. It involves using email to send advertisements, request business, or solicit sales or donations. 1
Conclusion
An autoresponder is very important when trying to start an online marketing business or affiliate marketing. According to statistics, your prospect client starts to think about your offer after 7 to 9 times seeing your ad or marketing content.
That is why it is a most to invest in an email marketing platform that will store and automate your email sequence for you. Schedule your broadcast, create a campaign, and email promotion can help you scale your business big time.1