How would you like to have a full suite of tools all in one place to make building your business simple? How Entresoft CRM will grow business faster?
In this blog, a little Entresoft CRM for business to do great wor, where you will be able to determine if this is the right software for your business If you should switch or stay where you at.
The true power of making money in your business comes down to one thing, how well You turn your leads into customers…and you're going to see how this super powerful Customer Relationship Management (CRM) Entresoft tool will allow you to close more deals and make lots more sales.
MILLIONS of business owners lack awareness of "post capturing a lead", they struggle to make any meaningful relationship because of that, they never have lived to their true potential. They have 100's of third-party tools, one for scheduling, another for email marketing, one for websites and sales funnels, and more, causing a traffic crash. Fortunately, Entresoft is here to help you manage everything all in one place, nurture your leads like a piece of cake, and be able to close the sale like clockwork.
The smarter way to do businesses, Entresoft CRM
Organize your client information and daily work in one place, freeing you up from repetitive tasks. Working in a peaceful and stress-free environment, Entresoft allows you to stay organized and no need to switch from one software to another, login to a different account, 2 or 3 computer screens, sometimes your secretary is upset cause his/her boss can't remember some login information. With only one software everything is right in front of you. Minimize the use of different software and stay organized for a better price.
Entresoft CRM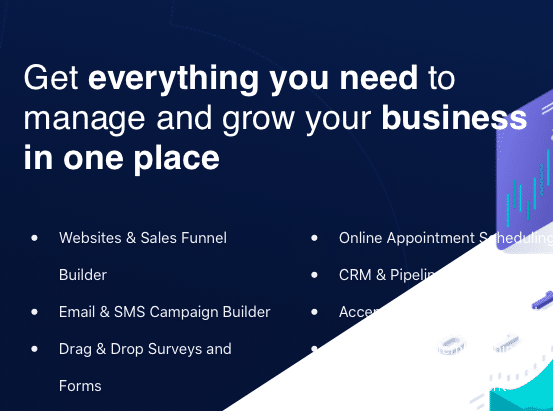 Get everything you need to manage and grow your business in one place
Entresoft CRM- What included!
As the picture shows, you get:
Websites and Sales funnel builder
Email and SMS campaign builder
Drag and drop surveys and forms
Online appointment scheduling
CRM and Pipeline management
Accept and Manage payments
Courses and Memberships
Reputation Management
And more…
That's a lot more, Entresoft really makes it effortless to maneuver your business and between online business tools that usually would come alone, no others can beat Entresoft.
Entresoft Comparaison
Let's say your business is running using regular software that is in the market and you want the business to work smoothly you will need a hand full of software to make your dreams come true. So, Let do the math and see what software will benefit and save you more with less headache.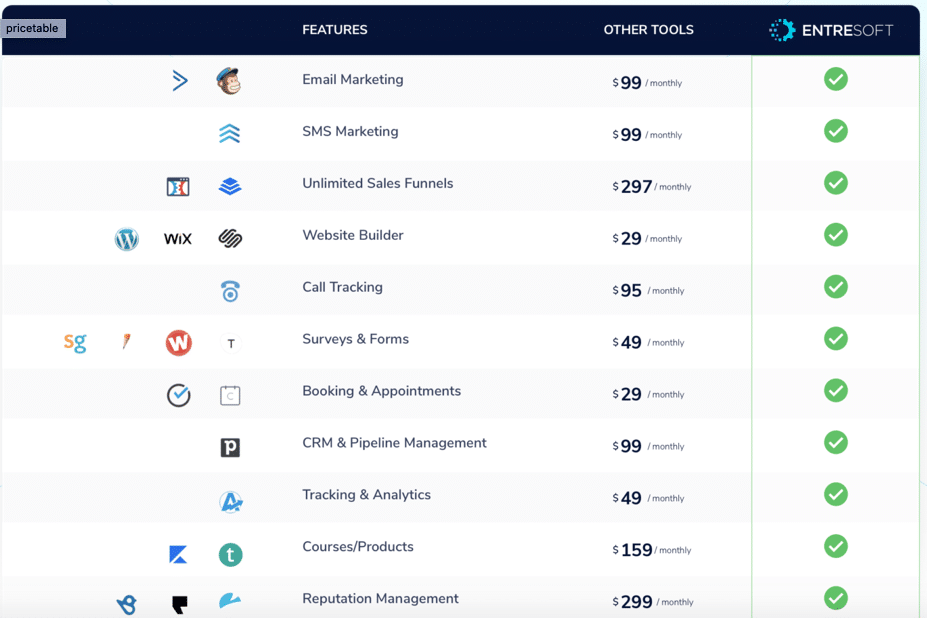 Business Cell Phone, to make and receive calls,text messages and fax,option call recording, voicemail and transcript? Basic plan $9/month
Funnel builder, Build funnel, squeeze page, lead magnet, upsall, downsall, opt-in, thank-you page etc $99/Month for a basic plan,.
Email marketing autoresponder, Send email, receive email, create campaing, email template, broadcasting $49/month depend on the provider for a basic plan.
Online appointment scheduling, $15/month
Reputation managment
Courses/Products
Tracking analitic
Servey & forms etc.
Imagine the headache of paying for each software and having a different login for each? Entresoft put everything in one software and with one app-manage everything for your business with the training necessary for each individual tool. Unfortunately, Entresoft is not open to the public yet it is still by referrals, stay tuned pretty soon it will be public and everyone will be able to experience the revolutionary software.
My experience with Entresoft.
May 2021 after Jeff Lerner the creator of this giant software invited me to his first time launching than I started using this for my business, I can tell that is life-changing for big and small business owners or anyone thing thinking about starting a business. The price is $299/month but I got a chance to start using it at a lower price that's $199/month.1